Baroque Christ with rays cross
size
How are crosses measured?
The main dimension, unless otherwise stated, is always the height of the
Christ from head to toe "A".
The dimensions for the cross / bar are usually given in brackets (B x C).
A (B x C) cm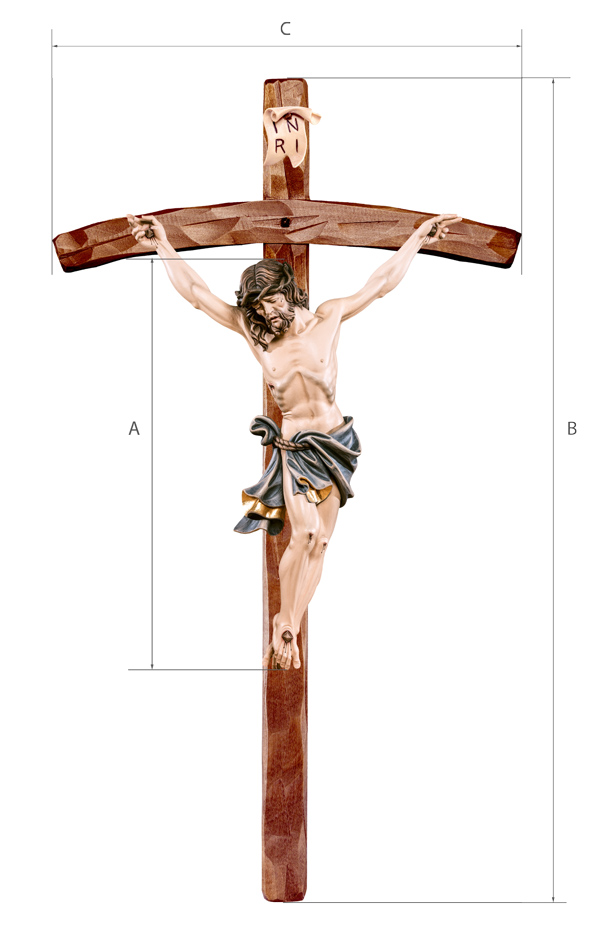 finish
IMPORTANT: As these are handcrafted products, the finished figure may vary slightly from the finished figure.
| naturale | stained 3 shades | color |
| --- | --- | --- |
| The figure is left completely natural after carving. | The wooden figure is painted with several (2-3) different tones of wax stain and then sealed and polished with buffalo wax. | The carved figure is pre-treated with nitro lacquer, then hand-painted with oil paint. |
| | | |
| | | |
| color antique | color antique with gold | watercolor |
| After carving, the sculpture is primed with chalk and then painted antique. | After carving, the sculpture is primed with chalk, then painted antique and gilded with gold leaf where appropriate. | The figure is subtly painted with water-based paints. |
| | | |